Citroen DS3
Safety Features
OVERALL
87
ADULT OCCUPANT
PROTECTION
71
CHILD OCCUPANT
PROTECTION
35
PEDESTRIAN
PROTECTION
83
SAFETY ASSIST
My Car...
I am a experienced driving instructor and I deliver driving lessons in Oakham, Melton Mowbray and Rutland area and I am currently using a Citroen DS3 as my training vehicle.
Specifications Include:
Power Assisted Steering
Air Conditioning
Anti-lock Braking System
Dual Controls
Electric Front Windows
Adjustable Seats and Steering Wheel
Spacious Interior
6 Air Bags
Satellite Navigation
Easy to Read Dash Board
Front and rear facing cameras which record sound, speed and gps for instructor and pupil safety.
Engine
Powered by a manual 1.6-litre diesel engine which feels lively and responsive in any situation. Elegance trim brings air-conditioning, LED daytime running lights and tinted rear windows.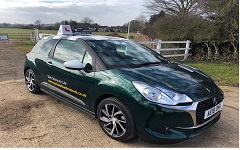 HOME
|
BACK TO TOP